The MPR News | Star Tribune Minnesota Poll interviewed 800 Minnesotans identified as likely voters, to understand their views on the race for governor and other offices, and on political issues in the news. The poll was conducted during September 10-12, 2018 (and again October 15-17, 2018; for those results, click here). The APM Research Lab provided consultation on the questionnaire and additional analysis of the results.
JUMP TO CONTENT
---
Minnesota Governor's Race

Tim Walz leads Jeff Johnson in the governor's race by nine points, but sixteen percent of voters remain undecided

KEY FINDINGS
Democratic U.S. Representative Tim Walz currently leads Republican Hennepin County Commissioner Jeff Johnson among likely voters in the race for the governor's office by a nine percentage point margin, but 16 percent remain undecided.

Walz has an advantage among women, younger voters, those living in Hennepin and Ramsey counties, those living in southern Minnesota, Democrats, and independents.

Johnson has an advantage among Republicans and older men.

Only the respective advantages by party affiliation and Walz's advantage among younger voters exceed the percentage in each group who are undecided. Those age 18 to 34 favor Walz by a 46 point margin, and only 18 percent of that group is undecided.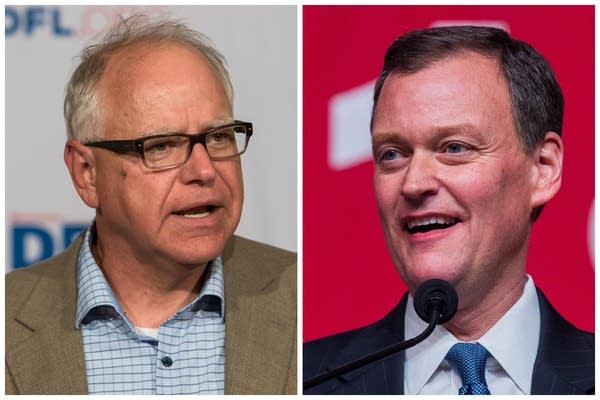 More Minnesota voters express a favorable opinion of Walz than Johnson, but each candidate remains unknown by one in five likely voters.

Walz has a higher percentage of favorable ratings than Johnson among women, those younger than 50, those with lower household incomes, those living in Hennepin and Ramsey counties, those living in Southern Minnesota, Democrats, and independents.

Johnson has a higher percentage of favorable ratings among Republicans.

Beyond those affiliated with their respective political parties, both candidates are unknown by 12 to 31 percent of Minnesotans, depending on the group.

Minnesotans say that healthcare, public education, and the economy/jobs are the most important issues to them when they are choosing a candidate for governor this fall.

The same three issues top the list among those indicating they will vote for Tim Walz, as well as those who are undecided.

Immigration, the economy/jobs, as well as taxes/government spending are the most important issued named by those favoring Jeff Johnson.
---
U.S. Senate, Minnesota's Attorney General

DFL candidates currently lead in both Senate races, as well the Attorney General's race, but a sizable proportion of voters are undecided in two of the three races
Incumbent U.S. Senator Amy Klobuchar currently has a 30 percentage point lead over her Republican challenger, state Representative Jim Newberger.

Klobuchar leads by significant margins among both men and women, all age groups, lower and higher income Minnesotans, and all four regions of the state.

Three-quarters of voters currently are unfamiliar with Jim Newberger, including 50 percent of Republican voters.

Among those who would vote for Klobuchar, health care is the top issue motivating their vote, followed by "Russian collusion and removing Trump from office."

Immigration, health care, and the economy are the most common issues selected as most important to their vote by those who prefer Newberger.



Junior U.S. Senator Tina Smith currently leads state Senator Karin Housley by seven percentage points in the special election for the Senate seat Smith was appointed to in January following Al Franken's resignation. However, 15 percent of voters are undecided about whom they would pick for the Senate seat.

Smith has an advantage that exceeds the percent who are undecided among young voters and women under age 50, as well as residents of Hennepin and Ramsey counties.

Housley has a similar advantage among men age 50 or older.


Democratic U.S. Representative Keith Ellison leads in his race with Republican former state Representative Doug Wardlow for the Minnesota's Attorney General's office by five percentage points. However, 18 percent are undecided.

Wardlow leads among both Republicans and independent voters. At present Wardlow's name is not recognized by two-thirds of voters.

Voters under age 35 strongly favor Ellison, as do a majority of voters residing in Hennepin and Ramsey counties, and women voters under age 50. Ellison currently receives unfavorable ratings from a plurality of likely voters, and he is unknown by one-fifth of voters.

The race for attorney general is overshadowed by allegations of domestic abuse brought forward by Ellison's former girlfriend. When asked whether they believe the allegations, three out of every five voters said they are not sure, and the others are equally split between believing and not believing the allegations.
---
Views of President Donald Trump

Minnesota voters are split on President Trump's handling of the economy, but a majority rate him negatively on overall performance, truthfulness, favorability, and characterization of the press

KEY FINDINGS
Thirty-nine percent of all Minnesota voters approve of President Donald Trump's job performance, while 56 percent disapprove of his performance.

Minnesota voters are equally approving and disapproving of President Trump's performance on the economy and jobs (statistically tied).

Six in 10 Minnesota voters do not believe President Trump "generally speaks the truth."
While President Trump is not on the ballot in the November 2018 midterm elections, 43 percent of Minnesota voters want their vote this fall to change the direction President Trump is leading the nation, while 29 percent want their vote to support the direction Trump is leading.

Three-quarters of Republicans and two-thirds of 2016 Trump voters indicate agreement with the statement "I want my vote in November to support the direction President Trump is leading the nation."

One-quarter of Republicans and nearly one-third of Trump voters indicate that "my vote this November doesn't have much to do with President Trump and his policies."

A majority of voters age 18 to 34, women below age 50, and voters residing in Hennepin and Ramsey counties agreed with the statement, "I want my vote in November to change the direction President Trump is leading the nation."

80 percent of those identifying as Democrats, as well as those who voted for Hillary Clinton in the 2016 presidential election, indicated a preference for changing the direction in which Trump is leading.
Half of voters feel that the Special Counsel Robert Mueller-led investigation is fair, while one-third of voters feel it is biased.
Half of voters believe the President should not be impeached and removed from office. However, more than one-third feel he should be removed from office.

Twenty-nine percent of Minnesota voters approve of President Trump's characterization of the media as "the enemy of the people," but 65 percent disapprove.
---
SURVEY BACKGROUND AND METHODS
This survey is the result of a collaboration between Minnesota Public Radio News and the Star Tribune. It is a continuation of the Star Tribune's periodic Minnesota Poll feature.
Mason-Dixon Polling & Strategy, Inc. of Jacksonville, Florida, designed and executed the survey, including sample construction and screening procedures, data collection, and analysis. The poll was conducted from September 10 through September 12, 2018. A total of 800 registered Minnesota voters were interviewed statewide by telephone. All indicated they were likely to vote in the November general election. See summary findings compiled by Mason-Dixon along with demographics of survey respondents.
Those interviewed were randomly selected from a phone-matched Minnesota voter registration list that included both land-line and cell phone numbers. Quotas were assigned to reflect voter turnout by county. The data were not weighted.
The overall margin for error is no more than ± 3.5 percentage points. This means that there is a 95 percent probability that the "true" figure would fall within that range if all adults were surveyed. The margin for error is higher for any subgroup, such as sex or age grouping.